How Important Is "Timing" The Market?
We have read from many investment text books that equity markets can deliver superior returns than any other asset class when stayed invested for a long term, say five years. In fact, may of us would have even witnessed the same in their investment portfolios.
The chart below plots the value of S&P 500 index from January 1950.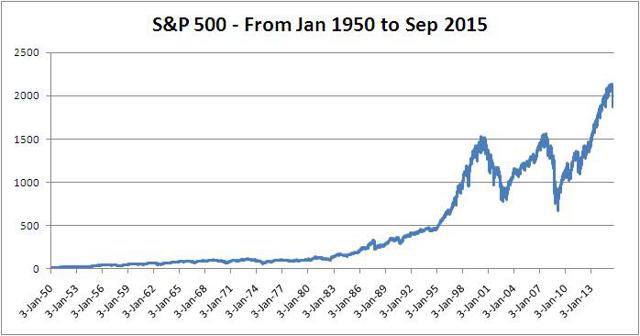 During the period, there were 16,537 trading days (as per daily index data). Out of this, we have a total of 15,279 five year periods. Let us now look at how much returns the S&P 500 delivered over these five year periods.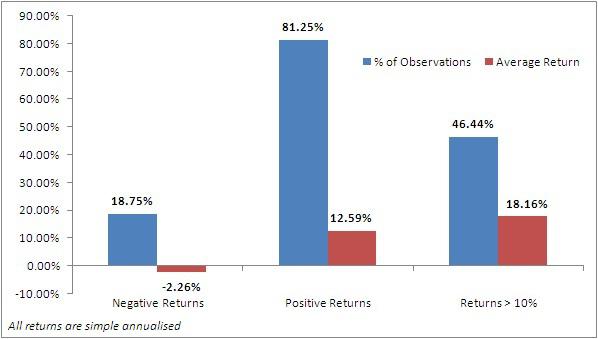 As we can see, the S&P 500 has delivered positive returns in over 81% of the observations. It has delivered negative returns in only around 19% of the observations.
There is another important data point to look at. Comparing the average returns, the quantum of negative returns (-2.26%) is much lower than the quantum of positive returns (12.59%).
Let us now go one level further. The number of observations where the average returns were more than 10% was 7,095 which is 46.44% of the observations. The average returns above 10% was 18.16%.
Thus, based on these historical data, we can infer that had one invested on
any day of the market
(S&P 500), the probability of not losing money is as high as 81.25%. It reiterates Mr.Warren Buffet's famous quote. "
Time in
the market is more important than
Timing
the market".
While I try to emphasize on the importance of "time in" the markets, I would also like to elucidate certain key points one has to keep in mind while investing in the markets.
Always stick to your lane. Assess your risk profile thoroughly and take only those investments that suit your risk-return profile.
Practically, no one can time the markets perfectly. If you keep waiting to invest at the bottom-most point, you might end up missing the bus again and again.
Invest in equities with a long term perspective - ideally 5 years. Historical data has shown that the chances of making positive returns over a 5-year investment horizon is as high as 81.25%.
Keep reviewing your investments periodically.
Disclosure:
This analysis and views expressed in this document do not have any connection with my company and pertain only to my individual analysis. Please note that past performance does not guarantee future performance. Please contact your investment advisor for advice specific to your portfolio.